I've long had an aversion to New Year's resolutions. I put pressure on myself every day of the year; I don't need a particular day to say 'okay now I gotta do better.' If anything I need to lay off telling myself to do better and do better at telling myself to chill out.
But despite my complaining, I actually ended up coming up with a resolution I like. I didn't particularly want to have a New Year's resolution. It snuck up on me. But it's something I've been veering towards lately, so I thought I'd share because maybe others would like it too.
My New Year's resolution is: To have a resolution every day.
It sounds kind of overwhelming, doesn't it? I don't mean it that way. It's more a matter of intent. When I wake up, when I commute from my bed to my office chair, before I start writing, I ask myself: What do I want to get out of today?
It's fun, because at the end of each day I get to feel like I win. And if I don't win, I just try again the next day. It's really the only thing anyone can do: take on each day one at a time.
Last Sunday, I had a strangely specific resolution for the day. I wanted to feel like I could hold the entire Potomac River in my arms.
Let me explain. The Potomac River begins in the Appalachian Mountains in West Virginia. It borders Maryland and West Virginia, then Maryland and Virginia, as it flows to and past DC into the Chesapeake Bay and the ocean. It travels right past historic Harper's Ferry West Virginia, where Seth and I were traveling for a holiday cabin getaway later that day.
I wanted to feel the breadth of the river, to experience the vastness of a simple train ride, so when we arrived in Harper's Ferry that early evening we could look out upon the same river, sixty miles removed. I had this weird vision of looking up the river at future-me, looking down the river at past-me, and waving hello. There came the supposed feeling of holding the entire river in my hands.
So my plan was to run to the Potomac River in the morning before hopping on a train in the afternoon. Simple.
Well, that didn't happen. On Sunday morning, when I was running down to the river in some complicated side paths of Rock Creek Park, I somehow got turned around. A path jutted me out of the park into a completely new neighborhood, one far from the river. I wouldn't be able to reach it in time. So I ran around the National Cathedral instead, hoping to feel some of the same sense of grandeur, failing because I was trying too hard not to be disappointed.
Anyways. We made it to our train on time and we had a lovely four-day trip. Harper's Ferry is a beautiful place that feels outside of reality; a preserved historic town, essentially a living museum run by the National Park Service about the events that instigated and shaped the Civil War. It's a tiny town you can walk from one end to the other in no time but still find yourself sweating from the hills. We booked a tiny cozy cabin, one big room with a bathroom, the big comfy bed taking up most of the room, a nice indoor heater, a screened-in porch. Hanging lanterns, magazines from the 40s, the worst board game ever. We had champagne and eggs and pizza. We walked through the historic cemetery under a full moon at night. We bought historic candy downtown, most of which was very nice, some of which, well, it's better if it remains historic.
We walked upon the river the first day, jogged on it the second day, looked out over it the third day. Not once did I think about my disappointment from that Sunday. Who cares? I was seeing the Potomac in all its glory, the Shenandoah, the full moon, and the ghosts and memories of the town and the history it created.
Our final morning was New Year's Eve morning. We woke at five o'clock to catch the six-fifty train. We made it to the train station with thirty minutes to spare. So we walked to the river one last time.
We could hear it before we could see it. Even on the shore, it was pitch black. On close look, you could see lighter grey water rushing through the dark. There was a lamp nearby that flickered in our peripheral vision. And a white light that shone from behind us for a second that didn't have a source. I was feeling jumpy from espresso on no sleep and an empty stomach. Like my head could float away at any moment. We walked onto the footbridge to be closer to the river. The darkness pressed in on us as we walked. At the end of the footbridge were three red lights, drawing us in. We turned away from the red lights and looked down at the water under our feet.
A train whistle blew. We jumped and ran back to the station. But it was a ghost whistle. Our train still wasn't there. It came five minutes later, with headlights so bright it blinded. On the train, the sun didn't rise for an hour. The river through the window was pitch dark. We may have well been in a tunnel. But it did eventually rise and we arrived in DC. We were home by nine o'clock in the morning.
I was so tired from waking up early that I didn't think about that Sunday wish to hold the river in my arms. Besides, it was supposed to rain all day. Yet somehow I stayed awake until that afternoon, at which point I realized actually it wasn't raining, it was barely a drizzle, and warm, and in fact I could still see both sides of the Potomac River in a single day.
Off I went.
This time I didn't get lost. I got to the river in no time. The light was dull from clouds. The river, to my left, was steel grey and quiet. The canal, to my right, was muddy and piled with broken cattails. Few people were out, but I could hear plenty of cars.
I paused when I saw a pair of ducks in the middle of the canal. They were feeding in the muck. The two ducks dipped their heads down low, sticking their butts up, then returned. They dipped as one in a choreographed dance. Dip, up. Dip and up. It was dirty and grey and muddy and calm. It was home.
-Denise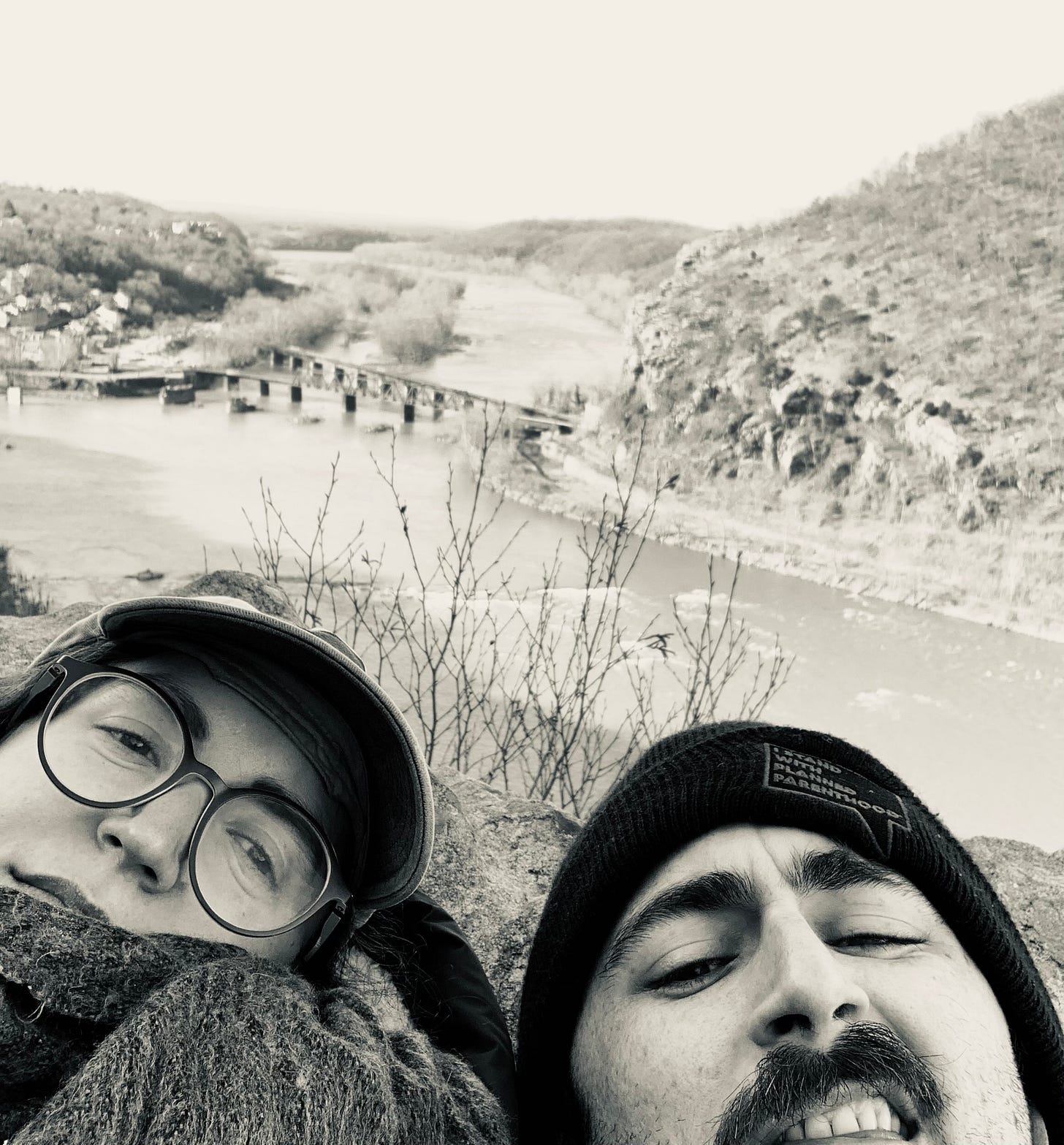 PS: The podcast I mentioned a couple weeks back is now available to listen to at this link. Or search "Campaign Season" wherever you listen to podcasts.
PPS: Know anyone who you think would like this? Forward this along!