Where were you when it happened?
It may have been a text, an app notification, a firework, a yelling, a honking. The noise that got you out of your head and brought to the present, and to our new reality: Trump is out. Biden has been declared the winner.
It almost feels like cheating. My goal of finding "noticements" — my little word for moments worth noticing — was pretty easy this week. This was a great, big moment. You probably didn't miss it, and I imagine most of you will never forget it.
For me, I was between places. My partner and I were rushing up 14th Street in Columbia Heights. We were running late to meet up with our friend pod. He was grouchy because I had taken too long to prepare (why does every occasion with other people suddenly feel so momentous? I now feel like I have to prepare for a ten-day trek. Snacks. Water. Kombucha. First-aid kit. A hundred layers for any weather). I was resigned to the fate of our lateness, and trying to cheer him up (which usually involves me making fun of his grouchiness, getting him to notice it, to realize there's no purpose in it, and relax). The sun was bright. My turtleneck sweater was too warm. My phone was stowed deep in my backpack.
Then, when we were crossing a street: the bang of a firework, then another. A couple lethargic honks. It was subtle, but enough to make me wonder: Did it happen? I pulled out my phone in the middle of the street. And there it was. CNN called Pennsylvania.
I stood for a few seconds in the crosswalk reading texts before he pulled me to the side of the street. Then we kept walking, grinning big. It was hard to take in. We had been waiting for this moment for so long. Our eyes glazed over on Twitter for days. It wasn't supposed to happen in transit!
But it did. And this was a moment that grew upon itself. The cheers arose as if from nowhere and intensified as we walked. People came out to their porches to yell and cheer with strangers. Fireworks kept going off. There would be a lull in the noise, then one car would honk, then another, then twenty. The noise came in waves. Each time we would feel it more. The relief. The pure relief. Fireworks went off all day. There was not a cloud in the sky, but with all the firework smoke, the sunset was extraordinary.
*
I was a pollworker on Election Day. It was a very long day that began at four-thirty in the morning and ended after the polls closed. DC did a great job of getting people to vote early and vote by mail. A fantastic job. Barely two hundred people voted in person at my polling station all day. That's fifteen per hour. At any given time, there were far more bored pollworkers than there were voters. I was outside managing the non-existent line, with two others managing the non-existent curbside voters. At some point, one of the others decided to cheer every time a voter came and left. I half-heartedly took part in the cheering. It was something to do. As the day went on, more pollworkers from inside joined us and expanded our cheer squad. By the end of the day, it was a downright roar every time someone new approached.
A voter appears from two blocks away.
Everyone stares in wait to see if they'll get closer.
The voter approaches.
A pollworker asks: "Are you here to vote?"
The voter nods.
CHEER SQUAD GOES WILD!
This reaction shocked the voter — but the shock often relaxed into laughing, smiling, or sometimes dancing their way inside. It was all very silly. Sometimes I offered half-apologies to the bewildered voters.
But why? It feels good to yell. And to be cheered. We've all needed a moment of relief.
A lot of my personal "noticements" happen in solitude. But this week I wanted to highlight the moments that arise when strangers come together. I wonder how we can continue uplifting each other. I'll probably think about this more on a solo walk.
*
As I first sat down to write this, all I could think about was the way my iced coffee was making my lips burn. It was a strange feeling: ice… burning. The coffee was slightly gritty from the french press. The ice cubes fell upon each other in a way my lips weren't used to. The cold stunned my skin into memories of summer.
As I continued to write, though, I forgot about the coffee. I was back in that moment in the middle of the crosswalk on 14th Street… and then I sipped a little too aggressively, spilling iced coffee on my sweater.
Oh well. The coffee stains are worth the memories.
❤
Denise S. Robbins
PS: Where were you the moment you learned Biden won? What do you remember about that moment? Shoot me a reply or leave a comment if you like, I'd love to hear it!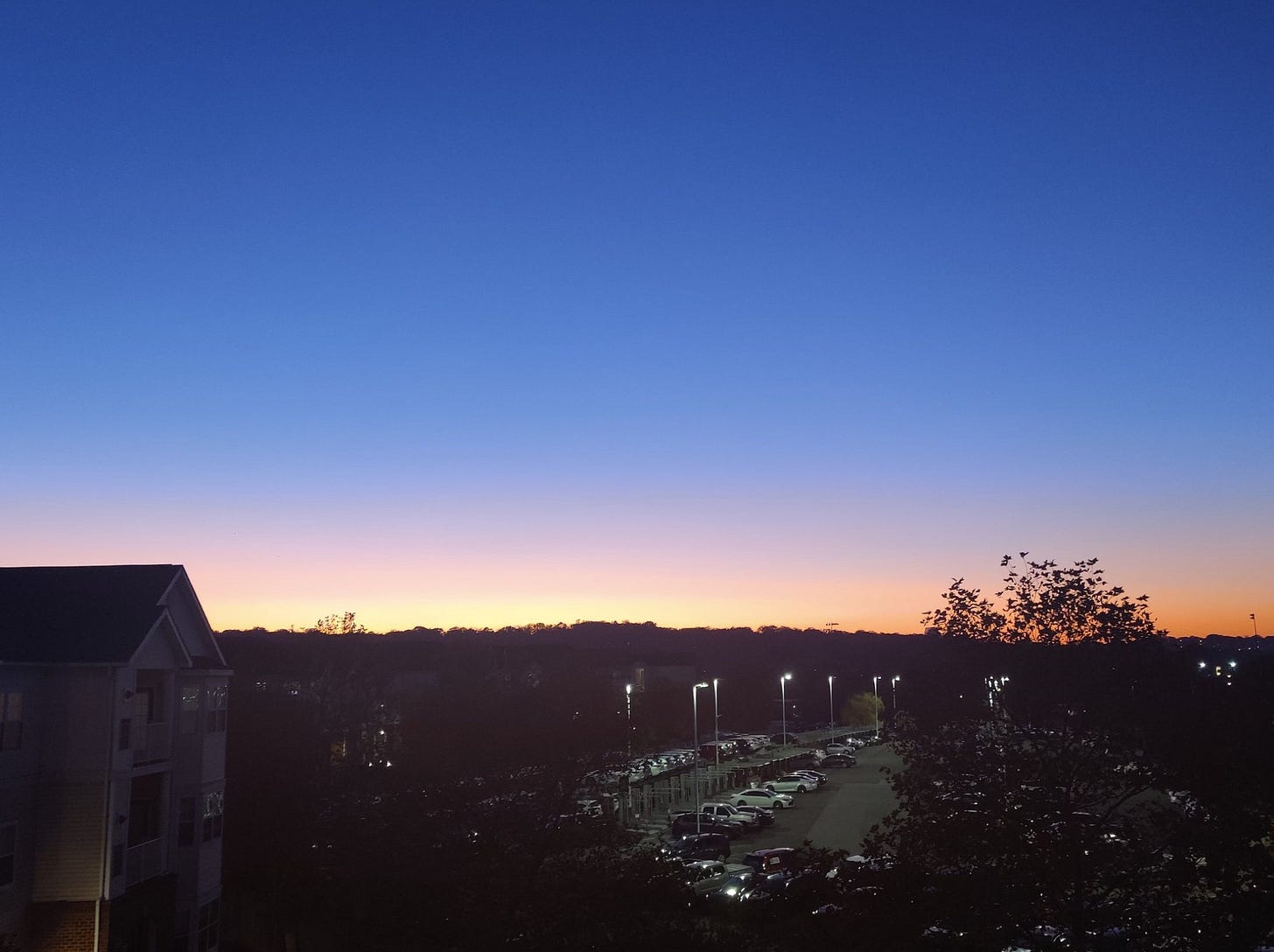 I stole this photo from Twitter of last night's DC sunset.